To
Gremlin's Lake Applets
I have visited many beautiful sites as I traveled the web.
One of the things I enjoy most is the look of the
Lake Applet.
I have created this page to bring together the applets
that I created and also some links to other beautful sites.
I hope you enjoy them as much as I enjoyed creating them.


My Lakes Applets

For something a little different visit
THE MERMAID
Special Thanks To Arthur
For this beautiful Applet
Visit his site to see more of his work
Other Lake Applets Sites
I hope you enjoyed your visit.
Please sign my guestbook before you leave.
Thank You!



Visit the creator of the Lake.class

Background Set Thanks To: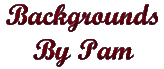 This page has been visited
times.